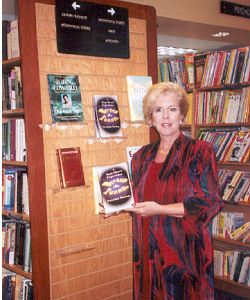 Suzanne Boehm attending a book-signing
at Border's Bookstore in Honolulu, Hawaii
(760) 331-7233


On July 13, 1993, after an allergic reaction to medications, I died in a dentist's chair! My heart actually stopped beating at 11:03 AM and then restarted at 11:07 AM!

During those four minutes I went on a magnificent journey where I encountered the Divine Creator who inspired me to share with you His messages about love!

In my book, I share a description of that profound experience with God.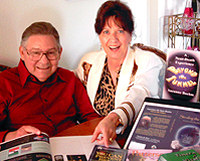 Thanks to Publishers: John and Marcia Perkins
International Promotions


Speaking Appearances

National Governors' Association Spouses
Seminar


IANDS (International Association of Near-
Death Experiencers) 2003 International
Convention-Hawaii, IANDS - San Diego,
IANDS - Los Angeles, IANDS - Salt Lake
City, IANDS - Riverside, CA, IANDS -
Virginia Beach, VA


Barnes and Noble, Encinitas, CA


Edgar Cayce Library in Virginia


Hospice


Vitas Bereavement Consortium


Tri-City Hospital


Rotary, Kiwanis, Lions Club,


Chamber of Commerce


United Ostomy Association


Presented at Women's Conferences,


Retreats, Churches, Universities, Schools


Hotels and more!
"Light of Love"
Inspired Symbolic Jewelry
You are invited to view the video of Suzanne describing the beautiful symbolic jewelry she designed after her death and encounter with God.

"This lovely custom jewelry design is based on my magnificently enriching experience told of in my book, "BEYOND THE TUNNEL. The jewelry is a loving presentation inspired from that incredible journey beyond this earth, being in the loving presence of God." Suzanne Boehm
Death . . . What a Wonderful Life!


The last thing you associate with death are the words 'wonderful' or 'life', yet this is ultimately where you arrive when you go Beyond the Tunnel in Suzanne's book about her personal near-death experience. Besides being quite a shock, what else do you get when you knock on death's door and are brought back to life?

Suzanne died in the dentist's chair in 1993. While "flat-lining" for four minutes, Suzanne experienced a lengthy encounter with God, during which He told her to write a book and "bring certain profound messages back."

Are you looking for the answer to some of life's questions?

Why am I here?
Is there a meaning to my life?
What is my purpose in life?
Does God really exist?
Are my prayers heard?
Is God speaking to me, or is it just my imagination?

Amazingly, in Suzanne's book, Beyond the Tunnel, you will discover the answer to your many questions about life and what God shared with Suzanne about an all-important "missing ingredient".

About Suzanne Boehm


As author of BEYOND THE TUNNEL and an award-winning speaker, SUZANNE BOEHM, is multi-lingual public speaker, both nationally and internationally speaking to corporations, conventions, associations, churches, and universities. Her "YOU CAN DO IT" approach is inspiring as well as educational.

Suzanne's speeches are designed with your specific needs in mind blending memorable anecdotes with light humor to illustrate the many ways you can benefit from applying positive principles of love to your life.

Speeches and presentations from her book Beyond the Tunnel include:

Light of Love
Love is the Answer to Everything
Is There Really a God?
Rising Out of the Ashes of Adversity
Never Let Anyone Steal Your Dream
Out of This World

Media Appearances and Participation

Final Destination II documentary: Cheating Death: Beyond & Back
TV Talk Show: Psychic Experience with Rev. Doris Horvath
KSEN Shelby, Mt. (Jerry Puffer Show)
KTRF Thief River Falls, Mn. (Open Line with Mark Allen)
KFTK 97.1 St. Louis, MO (Dave Glover Show)
(KZLX Northwest Missouri (Justin Nickerson Show)
WVKZ Schenectady, NY (Talk 1240 AM with Bob Cudmore)
The Big Show with Frank McBride
John Sebastian Show Adrian, MI
KXNA 104.9 FM Fayetteville, AR (Frank Whalen Show)
Doug Stephan's Good Day, Framingham, MA

Featured in the "Final Destination 2"

Featured in the documentary "Cheating Death: Beyond and Back"

Featured in the documentary called "Reflections Back and Beyond"

What Caused Their Near Death Experiences?

The Movie

A movie of her book Beyond the Tunnel is in early film production stage while the necessary funding needed for production is being raised.

Working Titled: Beyond and Back

Producer: Dreamtime Cinema and One Time Productions

Call Suzanne for information on scheduling speaking
appearances and book-signings regarding her book,
"Beyond the Tunnel"
(760) 331-7233
Visit Speaker Website

SUZANNE BOEHM
1578 Caminito Aguar
San Marcos, CA 92069

Credits: Tunnel Painting of Suzanne was done by Artist Lindsay Gibson

1999-Present All rights reserved -
'Beyond the Tunnel' a book by Suzanne Boehm Lake San Marcos, CA
Published by International Promotions - 2002